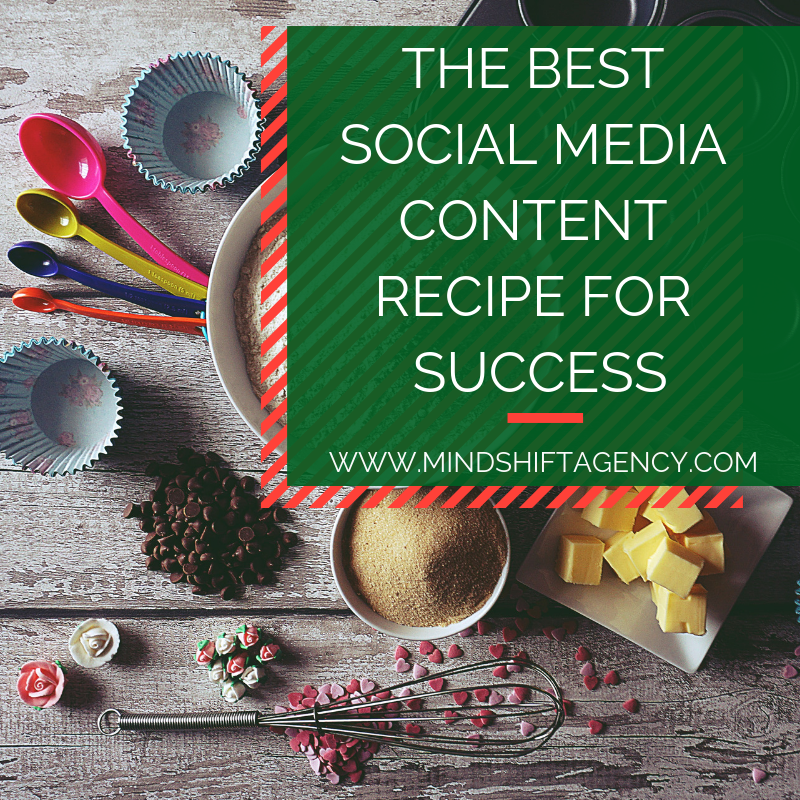 Do you prefer cooking or baking? Personally, I'm more of a chef than a baker, but I still enjoy my sweet treats.
You'll be amazing at the striking similarities between baking up a tasty treat and crafting effective social media content. Both demand exact quantities of each ingredient. Both require a bit of originality. Both inspire creativity. And both baking and social media content can mix together various ingredients to create an ideal end product.
But if you've ever baked a homemade goodie before, then you understand that you need more than just the right ingredients - you also need the proper ratios for those ingredients. The same can be said of social media content. The sweet spot for brownies and social media is a blend of 30% of content that you own (flour), 60% curated content (cocoa powder), and 10% of self-promotional content (salt).
The Flour: 30% Owned Content
Flour is essential for any baked good; it adds breadth to a brownie. Whether you use all-purpose, almond or another variety of flour, flour is an integral ingredient. Content that you own is as irreplaceable to your social media strategy as flour is to a brownie; it adds breadth to your company's visibility.
Owned content includes eBooks, white papers, blogs, podcasts or webinars. It's content that is unique to your company. Most B2B companies have a marketing team that composes this content from scratch.
Original content is what drives your website traffic, boosts lead generation, and builds up your brand. When posted online, this content reflects your message, images, logo, CTA and brand to relevant prospects within the realm of social media.
Wait a minute...If original content is so vital, why doesn't it fill more than 30% of your social media recipe? Truth be told - we don't want to appear as too self-absorbed, and it's annoying to constantly talk about your company (which also tends lower the quality of your content in order to increase the quantity).
Why is 30% the sweet spot of owned content? Without it, your company would have hardly any visibility. Keep your original content exactly where it is. Still hoping to spike your visibility? Ask your employees to advocate for your business. That feels more organic, authentic and human; plus this technique can reach nearly 10 times as many people than your company could! This method could be an extra key toward increase engagement, lead generation and brand awareness.
Expert MindShift Tip: When you publish a social media post with a link to your website, you have a 54% higher click-to-conversion rate. If your original content bears great value, your prospects will assume that your business is a leader in your field.
The Cocoa Powder: 60% Curated Content
Cocoa powder is the most prominent ingredient in a brownie recipe. Curated content is the largest ingredient that adds flavor to your content mix. No offense, but cocoa powder doesn't taste very good by itself, and your company cannot be the sole expert in your field! But when mixed with other ingredients, cocoa powder and content curation can still appear to be the star of the show.
Remaining on top of industry trends requires verbalizing about hot topics. Hence why curated content is such a necessity! Social media managers can post about things that are relevant and authoritative, yet not original content published by your brand. Think about other well-known individuals or experts, popular organizations or businesses, and trustworthy publications or materials that your audience would find valuable.
Third-party content helps your company shift position to be a master in your field. (Just like America's Top Baker!) It fosters relationships with other leaders in your industry. It opens the door to potential partnerships. It aligns opportunities for combined content initiatives.
Expert MindShift Tip: Cheap cocoa powder doesn't bear a rich flavor, and neither does skimpy curated content. Opt for the better quality content that is relevant, valuable and applicable to the audience within your industry. Do more than copy and paste an article's title into you social media post. Add your thoughts or ask a discussion question. Bonus points if you can even link the post back to your company's beliefs and values!
The Salt: 10% Promotional Content
Brownies taste exponentially better with the perfect amount of salt. Your social media content will appear drastically more professional with a balanced amount of promotional content.
This includes content such as press releases, company awards, customer reviews, CEO interviews, or social media mention. Anything that highlights the success of your company can be grouped into this category.
Although you're tooting your own horn, the details you share should still be relevant to your audience. Be sure to share ways your followers can experience the benefits or share the excitement with you.
Expert MindShift Tip: Pull your employees into the positive spirit too! Encourage your staff members to share the victorious post on their social media platforms to help spread awareness.
Let's get baking!
Thoroughly mix together your brownie batter before baking. Mix together all of your social media content until it's well combined. Blend together diverse types of content (30% owned content, 60% curated content, 10% promotional content) for the smoothest results and greatest success!
Social Media Content Recipe
Ingredients:
30% owned content
60% curated content
10% promotional content
Directions:
Mix together all ingredients until smooth.
Post frequently.
Enjoy the results!
Need help with your baking skills? Want to deliver the highest quality recipes? Our team of bakers and content makers would love to get in the kitchen with you!